Motor-Clothes Department
Here at Chattahoochee Harley Davidson, we are proud to present 3 custom backed t-shirts we have at our dealership. These backs represent the culture and lifestyle here in the Columbus area and we love having these at our location amongst the other gear that we provide from Harley Davidson. Want a shirt shipped to you, or maybe you want one of our custom poker chips that you cannot find anywhere else, we can take care of you! Just give us a call, we are here to help every rider look awesome in Harley Gear.
Chattahoochee Harley-Davidson, Fort Benning, Georgia
DESCRIPTION: Honoring those who serve. Columbus, GA is just minutes from Army Base, Fort Benning, which supports more than 120,000 active-duty military, family members, reserve component soldiers, retirees, and civilian employees on a daily basis. It is a power projection platform and possesses the capability to deploy combat-ready forces by air, rail and highway. The post is the home of the United States Army Maneuver Center of Excellence, the United States Army Armor School, United States Army Infantry School, the Western Hemisphere Institute for Security Cooperation, elements of the 75th Ranger Regiment, 3rd Brigade – 3rd Infantry Division, and many other additional tenant units.
Chattahoochee Harley-Davidson, Columbus, GA
DESCRIPTION: Want that Genuine Custom look? We have you covered with our Custom Chattahoochee Harley-Davidson t-shirts. This is one of our customer's favorite picks from the wall of designs. Customers crave this look to add to their state collection of shirt!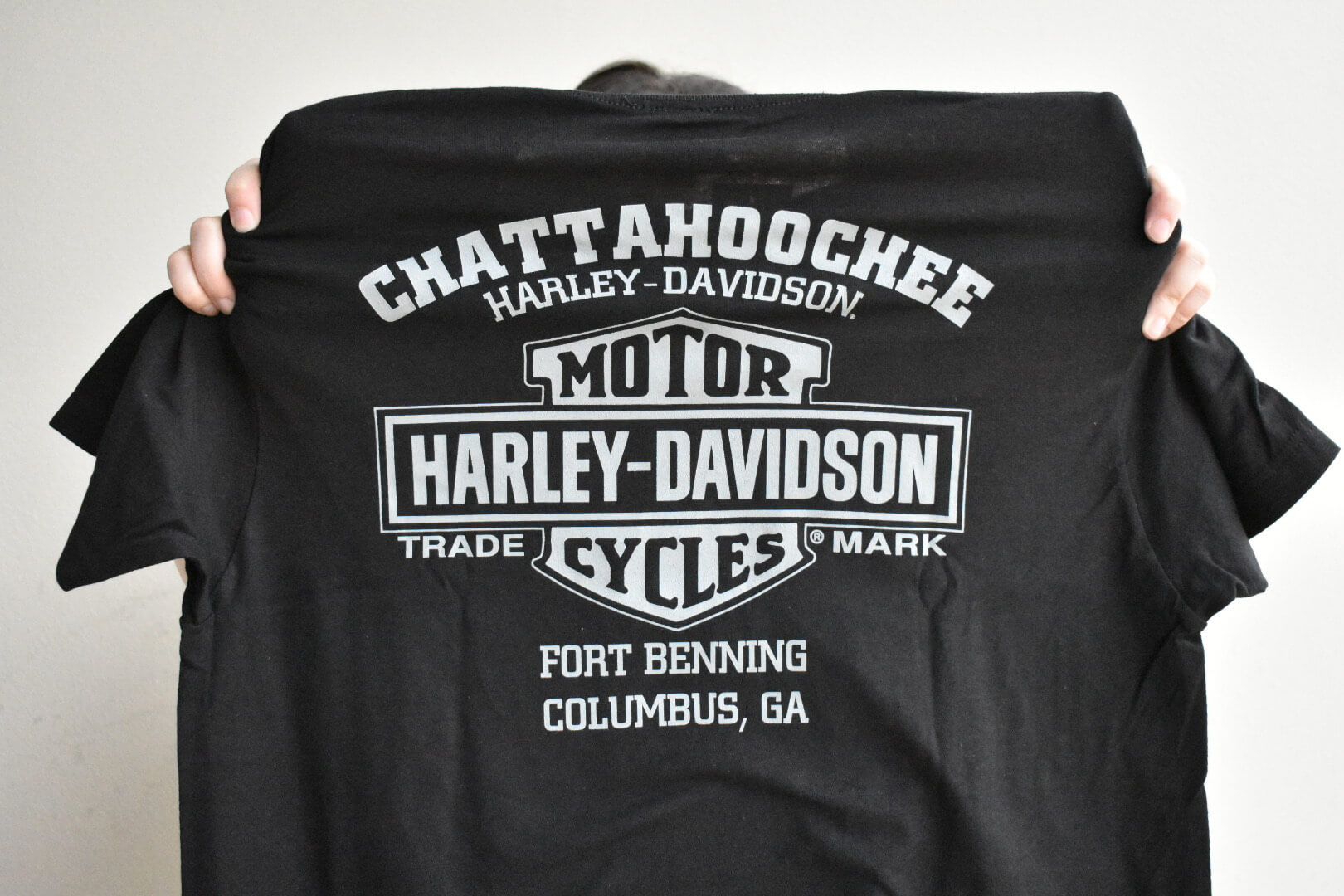 Chattahoochee Harley-Davidson Logo
DESCRIPTION: Want the simple look, but still have the Harley Appeal? We have you covered with our Bar and Shield back t-shirt to give you the ultimate Harley Davidson look. We enjoy appealing to all of our customers and their certain tastes, and this simplified shirt is one of the picks for that rider who enjoys the simple life.